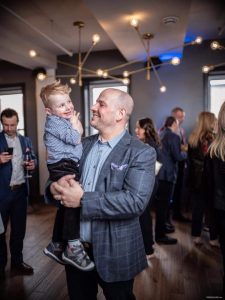 FAST is proud to co-fund with FAST Canada two important grants, Rodent Studies of Non-Snord 116 Paternal Ube3a Activation and Pilot Feasibility of an Enzyme Replacement Therapy for AS, both from Dr David Segal's lab at UC Davis.
FAST Canada chose to co-fund these two particular grants because they wanted to focus their first funding opportunity specifically on work being done in the lab toward curing Angelman syndrome (AS). "We wanted to live up to the mission of FAST," says Noah Firestone, chairperson of FAST Canada. "This co-funding opportunity is very rewarding for the organization."
In 2016, when Noah and his wife Angela, received their son Zev's diagnosis, they scoured the internet to find as much information on Angelman syndrome as possible. They found FAST. "When we learned that there was actually some good news, scientific reason that this disorder could be treatable, we were very excited," said Noah. Within a week of discovering FAST, Noah had an inspiring conversation with Paula Evans, chairperson of FAST, and decided he had to join the quest to cure Angelman syndrome.
Noah says, "After investigating I found a group of parents here in Canada who had put together a team and done some great work fundraising and raising awareness for FAST." Noah immediately called David Uzan, who had assembled and led the group. They had been struggling to navigate the difficult process of achieving charitable status in Canada. Noah was able to help by using his connections and FAST Canada succeeded in gaining charitable status. This was important as it gave the organization credibility in Canada, the ability to produce Canadian tax receipts and authorization to be used with the various employer/employee and inter-organizational programs.  Within two years after receiving charitable status FAST Canada was able to raise over 450,000CA$!
Fundraising is a key part of  FAST Canada's mission and the organization has had many successful and inspiring fundraisers. Na'ama's Lemonade Stand, which started in 2014 and continues today, is a grassroots fundraiser started by Na'ama, when she was 4 years old.  Na'ama wanted to help her older brother, Nadav, who has AS. To date she has raised over 100,000CA$ to cure Angelman syndrome! Another creative fundraising campaign was called Stick A Fork In It. Noah's restaurant in Ottawa, Luxe Bistro, donated a dollar for every item purchased towards supporting a cure for AS. The response was overwhelming and in five months the Stick a Fork In It campaign had raised 50,000CA$. In 2019, FAST Canada organized their first Gala in Ottowa called A Cure In The Capital. In one night, FAST Canada raised 100,000CA$! On July 1st, Canada Day, FAST Canada will launch their latest fundraiser #showusyoursmile through the Canada CAN (CureAngelmanNow) Campaign.
In early 2017, Noah took over as chairperson of FAST Canada. He is honored to lead FAST Canada into its next phase of development. "I'm most excited now about the strengthening of the inter-organizational relationships of the various FAST organizations around the world, and the ability to receive guidance and support from FAST US."
FAST Canada has, for the most part, been active mainly in Ontario but is currently focused on expanding to all regions of Canada. The challenge that the organization recognizes is that Canada's population is spread over a vast distance. "We are working hard to develop connections in the community across the country and gain involvement in order to widen our scope," says Noah. FAST Canada also recognizes the importance of having a French speaking presence as Quebec represents a large and important part of Canada.
What's next for Canada? Noah states they are working hard at bringing clinical trials to Canada. "We all know and are confident that any advancements achieved anywhere in the world will benefit our angels, but to see progress and involvement in one's own country really makes the whole idea more tangible and real and exciting."
Visit FAST Canada online: https://cureangelman.ca/
Or email: info@cureangelman.ca